Tomb of Sargeras: 10 Important Achievements For Players To Obtain in This New Patch
Updated: 04 Feb 2018 7:33 pm
The best achievements to farm for in Tomb of Sargeras
Spectacular Capture of Highmountain.
Heros across Azeroth are gearing up for the new Legion content. Achievements provide a variety of rewards, both vital and cosmetic. This expansion we can look forward to new pets, mounts, titles, and toys!
Some achievements must be completed before players may unlock certain content, so don't let yourself fall behind in the race to Kil'Jaeden.
Here are the hottest achievements everyone is after.
10. Hatchling of the Talon
Similar design as the Goblin Glider, Emerald Winds leaves a fel trail.
Reward:
Emerald Winds is a shortcut to flying in Legion. It's basically a reusable Goblin Glider that launches you through the air before deploying.
Objective:
Gather 10 Emerald Orbs in a single session of Aviana's challenge in Sylvan Falls.
The Hatching of the Talon quest can be found in Highmountain. It will take some patience to overcome Aviana's challenge, but it will be worth not having to grapple all the way through Stormheim. Emerald Winds is essential for players who have not obtained flying in Legion yet.
If you have already completed the pathfinders for flying, this item can still be useful for sightseeing or casual travel.
See How It's Done: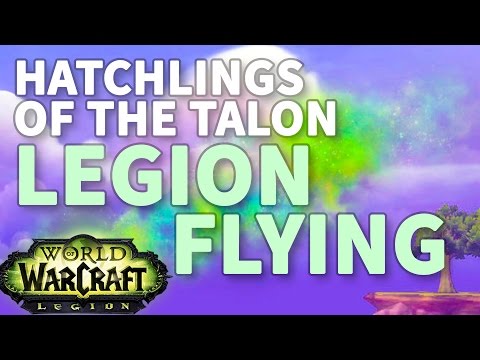 9. Pathfinder Part One and Two
Undead showing off his Legion flying to a tired human in Stormheim.
Part One Reward:
Increased mount speed in Broken Aisles.
Part One Objective:
Complete the achievements Broken Isles Explorer, Variety Is The Spice of Life, A Glorious Campaign, Loremaster of Legion, and Broken Isles Diplomat.
Mount speed is increased 20%, though, if you are in a guild that has the 10% speed bonus already your speed will only increase by 10%. Speed increases now stack up with class increases from death knights and paladins.
While it isn't much of a boost it will make a small difference, plus, most of the criteria will be filled out naturally through questing.
Part Two Reward:
Flying in Broken Isles.
Part Two Objective:
Complete Broken Isles Pathfinder, Part One; Explore Broken Shore; and Legionfall Commander.
Completing storyline content and earning reputation with Legion factions takes the most time and effort. Since it is a natural part of the game these achievement really are not asking for much.
Every player should be able to unlock Legion flying, otherwise, they may not be able to unlock future content. Once your characters are able to fly the game speeds up as you are able to get more done.
8. Lock, Stock and Two Smoking Goblins
Located south of Vydhar in Iron Rest, the final quest opens only for level 110 players.
Rewards:
Title "the Gullible." One of the lesser titles in Legion, it will still earn plenty of praise.
Objective:
Complete the questline "Time To Collect."
Goblin scam artists, Snaggle Sixtrigger and Rax Sixtrigger, send you all around Stormheim slaying and looting. They rarely have anything nice to say and are clearly sketchy characters. In exchange for their quests, they reward valueless soulbound green items.
After completing the side story that starts with the quest, "What A Ripoff!" "Time To Collect" will appear in Dalaran. The entire quest line is a lot easier to get with flying.
Players jokingly rumor that keeping the title on your character for a week unlocks a hidden feat of strength!
7. No Shellfish Endeavour
Murlocs always bring a buddy.
Rewards:
Mrgrglhjorn, a toy item that summons a stampede of adorable murloc tadpoles.
Objective:
Complete the achievements: Now That's Just Clawful!; Oh, The Clawdacity!; and Claws For Arms!
The Mrgrglhjorn is just one of many fun new toys introduced with Legion. Players are spotted all over scattering baby murlocs in honor of their adventures mind-melding with Murky.
Murky quests may be as close as we will get to playing a Murloc in WoW. This achievement is definitely one of the more cosmetic ones, but it has earned a lot of enjoyment.
6. Breaching the Tomb
Expect seeing more of these demonic adds while you breach the Tomb.
Rewards:
None initially, but players will gain access to access class mounts.
Objective:
Complete all 15 Legionfall Campaign quests.
At the beginning of the Legionfall Campaign launch the quests were released weekly to pace players. Once released, there are less time restrictions.
Campaign quests are mostly made of straightforward things we already do (slaying demons and the like). So it may seem like a lot at first, but this achievement will breeze by.
We have been on the edges of our seats waiting for the big class mount release. Like anything epic, Blizzard is making sure we work for it. The quests for class mounts will not appear until players have completed the Legionfall Campaign.
Each individual character must unlock Breaching the Tomb before they can accept the class mount quests.
5. Poor Unfortunate Souls
Helya, a fallen val'kyr queen, reigns over Helheim, the underworld.
Rewards:
Lagan, rare battle pet.
Objective:
Defeat Helya on Mythic difficulty while all players are Poor Unfortunate Souls.
Part of Glory of the Legion Hero, Poor Unfortunate Souls is a fun achievement that everyone should be able to knock out after strengthening their gear. Of course, she will be easier to take down in the lower Mythic keystone ranks than in the higher ones.
Helya is the final boss in Maw of Souls. She was persuaded by Loken to turn on Odyn and plots her revenge from her rule in the realm of the underworld.
See How It's Done: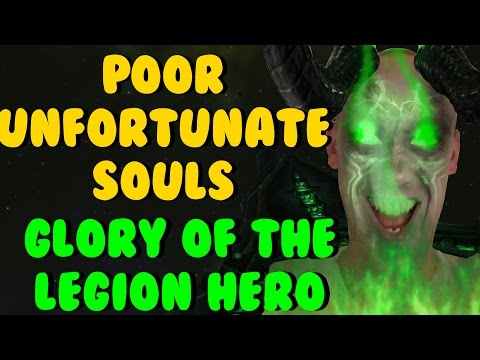 4. Mythic Xavius
Xavius is the final boss in the Emerald Nightmare raid.
Rewards:
Title, "the Dreamer."
Objective:
Defeat Nightmare Lord Xavius in the Emerald Nightmare on Mythic difficulty.
Xavius is available only after defeating Cenarius. Born a Highborne night elf, he originally contacted Sargeras by accident. After he was killed by Malfurion, Sargeras brought him back as the first Satyr.
See How It's Done: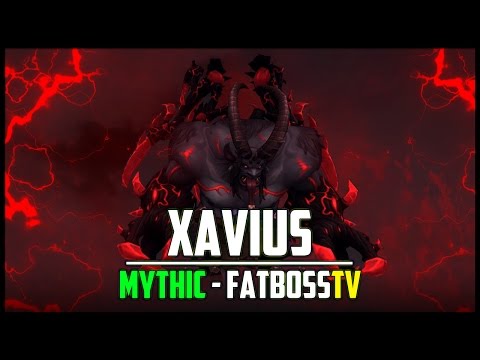 3. Mythic: Kil'Jaeden
Kil'Jaeden put up a fight in Burning Crusade, we got him in the corner now!
Rewards:
Title, "the Darkener."
Objective:
Defeat Kil'Jaeden on Mythic difficulty.
We have been hunting Kil'Jaeden the Deceiver since the Burning Crusade. This eredar demon lord is the final boss of the Tomb of Sargeras raid.
The title itself is as flashy now as Kingslayer was in Wrath of the Lich King. Only the most powerful players will be able to successfully down Kil'Jaeden on Mythic difficulty.
2. Glory of the Legion Hero
The Leyfeather Hippogryph has a very similar skin to the Dark Phoenix mount released in Cataclysm.
Rewards:
Reins of the Leyfeather Hippogryph and unlocks Artifact Weapon appearance Valorous.
Objective:
Glory of the Legion Hero requires the completion of 26 Legion Mythic dungeon achievements.
If you were thrown off by the absence of a mount reward with Pathfinder, here it is.
Mythics are no picnic but your time and diligence will reward you along the way. Inevitably, players will have unlocked flying by the time they get Leyfeather Hippogryph.
This achievement reward is particularly prized for unlocking the 4th Valorous tint on Artifact Weapons. Most tints are not rewarded easily, making this one you can proudly show off while working towards more challenging options.
See How It's Done: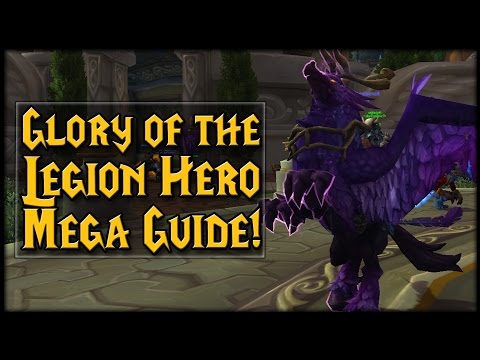 1. Glory of the Tomb Raider
Legion forces standing by in Broken Shore.
Rewards:
Armaments of the Legion, transmogrification Legion armor.
Objectives:
Complete all 9 Tomb of Sargeras achievements.
Not all Tomb achievements have notable or desirable rewards. When Legion first launched this achievement was said to reward a mount, however, Blizzard changed that soon after. Now the only known reward are the Armaments of the Legionfall, which we are certain contains some sort of transmog set.
Players speculate that the transmog reward contains armor sets from the raid. Since the Tomb of Sargeras is still locked there is a possibility the transmog could be inspired by other parts of the Legion expansion.
After server "first" achievements that players unlock at the beginning of expansion packs, pathfinder and glory achievements are the next big focus. With the release of class mounts, Breaching the Tomb will be the big make or break leading into the raid release.
Soon the Tomb of Sargeras will open and adventurers all around will attempt to finally bring Kil'Jaeden down from his throne.
You may also like: