11 Best WoW Addons for Legion You Should Be Using
Updated: 15 Oct 2016 10:26 pm
Blizzard have released a new expansion into World of Warcraft - Legion!
Blizzard Entertainment have recently released a new expansion into their Massively Multiplayer Online Role-Playing Game (MMORPG), World of Warcraft (WoW). On 30th August 2016 "Legion" was brought out to the public, almost two years after the previous expansion "Warlords of Draenor - released on 13th November 2014.
New expansions mean new playing methods for your characters, new updates, completely new areas, new quests, additional story lines and updates to addons!
We are going to be looking at the 11 best WoW Legion addons you should be using to help you through this new release and to make the most out of the experience.
11 - AtlasLoot - Enhanced
Firstly, take a look at the guide video below to see if this is something you are interested in: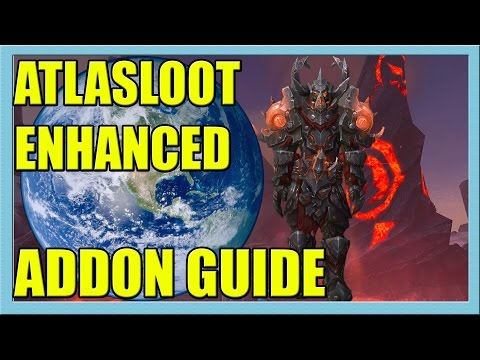 Informative AtlasLoot - Enhanced video guide on how to use the addon.
What it does:
AtlasLoot is an excellent and informative mod to the game. It is a User Interface mod that allows the player to browse through all the items dropped by bosses in the game. Meaning that if there is a particular weapon, armor upgrade or token you need, you can easily filter through the loot tables in this mod to find out which boss in whatever dungeon or raid it drops from.
This isn't the only feature in AtlasLoot though, there are more as you can see below:
Dressing Room feature - allows you to "control-click" items in the system and see how they look on your character.
A "Wish List" - allowing the user to "Alt-click"on any item they want, need or desire and adding it to a wish list tab.
Prices - gives you the relevant information for how much PVP or other token items costs in game.
In Game Collection - enables the user to view all mounts, companions, legendary items and other collectibles that are in the game.
Searching - AtlasLoot knows you may not always know the full name of an item, and has a system to allow you to type in and search what you do know about the item to help you find it.
Why you need it:
WoW has been around for over a decade since its initial release in 2004, so it's very safe to say the game has a lot of armor sets, weapons, enhancements, tokens, reputation tabards and bosses. So how are you meant to know what you need for your character? How will you know what bosses drop your upgrades and can give you more output from your game play?
AtlasLoot is answer! It provides users to easily access all of WoW's enormous database of in game content, display useful information about each piece and show where you can get the item from.
Download the mod here: AtlasLoot Enhanced
10 - NPC Scan
None-Player Character (NPC) Scan is an extremely useful mod to the game, an addon that I would highly recommend any player to have.
What it does:
NPCScan allows the user to search and scan for NPCs in the game that are close to your current location. It does this by automatically scanning your surround minimap, the nameplates of NPCs and mouseover target NPCs. When the addon has found an NPC it will automatically alert the user with an onscreen display and audio alert.
Why do you need it:
NPCScan opens up and allows players to hunt down and find rare NPC's in the game that offer rewards. These rewards can vary from mounts, weapons and companions. 
Some NPCs have extremely rare spawn times, meaning it could take up to a week after another character has killed this NPC before it will come back into the game. Having the NPCScan on your side means you can track not only the NPC itself but also see the last time it was killed and when it is likely to respawn.
Download the mod addon here: NPCScan
09 - Sell Junk
Sell Junk is possibly one of the oldest mods in WoW having been created in 2007.
Tutorial to setting up and using the Sell Junk mod addon.
What it does:
Sell Junk is basically an addon that does as it's name suggests - allows the user to sell junk! For anyone with any experience in playing WoW knows the accumulation of "junk" (grey items) is fast and annoying, taking up valuable bag space. This addon allows a quick and easy way for users to sell their junk to any in game vendors. The user can specifically add any other items they wish to be implemented into this list of junk.
The addon also keeps track and calculates how much gold you have made from selling your junk to vendors.
Sell Junk can also allow you to destroy all the junk items if you are too far from a vendor.
Why do you need it:
Unwanted items are an inconvenience to most WoW players. They take up a lot of bag space, and for items that hold so much storage - they do not have any value for money. They are useless items like bones, low level drinks and food, useless armor and clothing. 
Instead of going to a vendor and having to individually sell them one by one, this addon allows the mass sale of all these unwanted items to the vendor in quick time. Allowing you to do what you bought the game for - playing, raiding and PVPing!
Download the addon here: Sell Junk
08 - Tell Me When (TMW)
I would highly recommend this addon to anyone who is deciding to play WoW for the first time, or are trying out a new character you haven't player yet.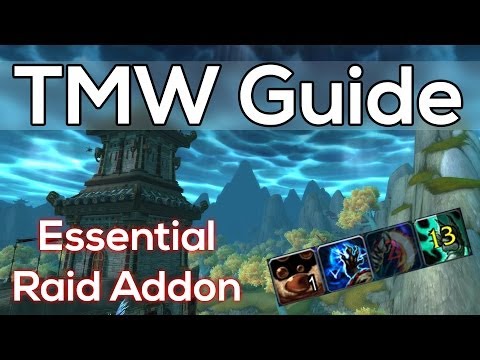 Extremely useful guide for an extremely useful addon - Tell Me When
What the addon does:
TMW provides visual and audio alerts about your characters cooldowns, buffs and any other elements of the in game combat system.
TMW is a very flexible addon that tracks your cooldowns, buffs and debuffs, temporary weapon enhancements, spell casts, rune cooldowns, internal cooldowns, loss of control situations and many more.
The addon can be easily customized to suit the users needs, allowing you to change the audio sound of alerts, alter the text when icons have been changed and more.
Why do you need it:
When it comes to the combat aspect of WoW, whether it is PvE or PvP, there are a lot of buttons and options for you to choose from. Knowing the best rotation of your character for the best output can be difficult, unless you have extensive experience playing your character. 
TMW provides you with the guidelines any new playable character needs to have a decent and ideal output to the game.
Download the mod addon here: Tell Me When
07 - Postal
The idea behind Postal is provide players of WoW enhanced support when it comes to the mailing system.
Guide to using Postal in game.
What it does:
Postal allows you to track every one of your characters in the mailing system, and up to the last 20 people you have sent mail too.
Postal also has a lot of short cuts implemented into the mailing system to make the process a lot quicker. You can easily remove items or money from mail you have without needing to open it up and then remove. Allows you to swiftly move an item in your inventory to a mail letter without the need to open your bags, click and drag the item into the mailing system.
It also allows you to open all of your mail, or open all of a specific type of mail in one simple motion.
It provides a lot of benefits and enhances the mailing system in the game significantly!
Why do you need it:
Above are only some of the advantages to downloading this addon to your game, believe me there are a lot more!
If you are a popular player in your realm, or someone who spends a lot of time at the auction house, then this addon will benefit you!
It will allow you to reply, remove and add items/money so much quicker from the game, meaning you can get back to your business a lot quicker than usual!
The standard mailing system in WoW is limited, but this addon adds extra factors to it and enhances the UI aspect of the system.
Download the addon here: Postal
06 - Bartender 4
Bartender 4 allows a personal customization look to your characters moves.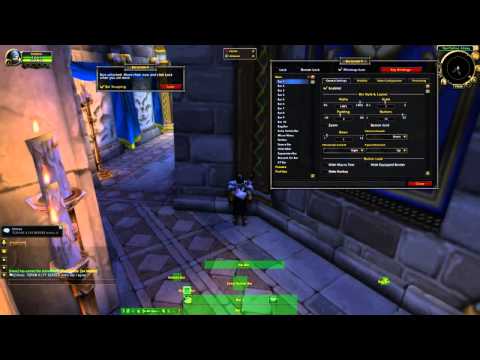 Setting up and using Bartender 4 for a custom look!
What it does:
This addon allows the user to replace WoW's standard action bar that holds your characters moves, and personally customize it to the way that you want.
Bartender 4 provides support for all related action bars; from you characters standard action bar - you now have up to 10 action bars to custom you layout. It gives the option to personalize a stance bar for your character, a pet bar, bag bar layout, an XP and reputation bar as well as a micro menu bar. You are able to adjust the scale and colour of the bars buttons, and even hide unwanted information that comes with the action buttons.
Why you need it:
This is another highly recommended addon for WoW players. The standard action bar implemented by WoW is limited and you cannot get the best output from your character using it.
Bartender 4 allows you to customize the look of your action bars buttons, meaning you can place them where you want; allowing you to put related actions next to each other and enhance your characters output to the game.
Download this mod here: Bartender 4
05 - Auctionator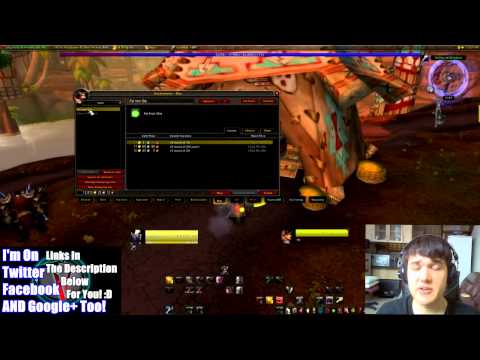 Tutorial guide and configuration of Auctionator.
What it does:
Auctionator was created to allow users to use the in game auction house a lot easier. It's UI presents you with listings of the item or items, such as materials, cloths or other ingredients you have searched in a clear and understandable manner. It makes using the auction house a lot easier and establishes a more casual approach to the experience.
An in game view of how the Auctionator addon displays searched items.
Why you need it:
The in game auction house can be a bit daunting at first, there are a lot of products on there from a lot of players, and trying to find the right items you need at a decent value can be troublesome.
The Auctionator addon removes this difficult process and allows the users to find the items they want quicker, and display them in a relevant order (lowest price first, time left on auction etc).
Download the addon here: Auctionator
04 - Auctioneer
Basic Auctioneer addon run through.
What it does:
This addon is designed to provide the user with the tools and relevant data to make tough auctioning decisions a lot easier.
Auctioneer makes the process of buying and selling on the auction house a lot easier! 
It displays statistics for the user to look at whilst strolling through the auction house such as; the percentage amount that a particular item has been placed on the auction house, if the item is overpriced or good value for gold and more.
Why you need it:
Auctioneer has a lot of data behind it, the system used in this addon analysis's the whole auction house to give you a detailed report.
When selling items it will allow you to view who else is selling the item or items that you are, so you can get a good idea of how much to sell your product for. It is a very useful auctioning addon, and should be used by anyone who is interested continually buy and selling from the auction house.
Download this mod addon here: Auctioneer
03 - Recount
The Recount addon is a very intelligent addon, and I would advise everyone to get this mod for their gaming experience in WoW.
Learn how use the Recount addon from this video.
What it does:
Every time your character does a damaging move, there will be a statistic number for the damage you have dealt. Recount keeps track of all this data and graphically displays it so that you can see the damage output of your character.
Recount keeps an account of every move you have used, how often, the highest amount of damage it has dealt, the lowest, how many times it has been a critical hit and the average damage dealt by this move or moves. This addon will also take into consideration any damage done to a target that characters with pets and other miscellaneous aspects do.
This addon will also track any healing done by your character if you are a healing class, and tracks other important pieces of information through a combat encounter.
Why you need this addon:
Anyone who is serious about the output of damage they put into the game needs this addon so they can track and improve their rotation.
Recount doesn't only track your own characters damage, but also the output done by other members of your party when you are raiding or PvPing. This will allow you to compare your character to the other members in your party, making it more competitive.
Download the addon here: Recount
02 - Deadly Boss Mods (DBM)
This addon is usually a must have mod for any raiding guilds in the game.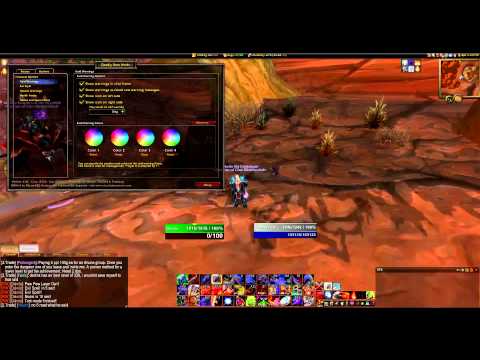 DBM run through and simple explanation on how to use this addon.
What it does:
DBM is a very important addon when it comes to serious raiding in the game. The addon is designed to give visual, graphic and audio alerts during raid boss encounters. These alerts range from specific boss moves, changes in the fight (phases), minion spawns, buffs and debuffs and a lot more.
This addon can also be used for your own personal benefit. It will allow you to set raid warnings, timers, alert other players of danger easily, shout out any special moves you have used to let your party members know and benefit from it, etc.
Why you need it:
As I've mentioned, this is a must have addon for anyone who is thinking about serious raiding when it comes to WoW Legion.
Anyone with experience in raiding knows how much attention is required to kill a boss in WoW; Legion will be no different. This addon will allow you to make important split second decisions whilst in combat, it will save your life probably more times than you realize, and provides the user and raid members with countless and priceless information about any given raid.
Download this important addon here: Deadly Boss Mods
01 - Master Plan 
Master plan is an addon brought out in 2014 with the expansion of "Warlords of Draenor".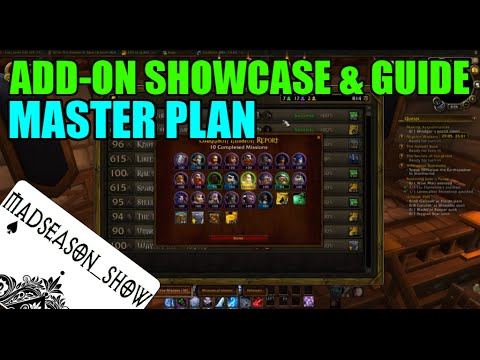 Tutorial to using Master Plan in your Garrison!
What it does:
The Master Plan addon was specifically designed for your Garrison in the previous expansion - Warlords of Draenor.
It was created to make the prospect of sending your followers on missions and to maximize the mission success and rewards a lot easier. This addon will visually show the threats of the mission your followers will face and allow the optimal selection of a team for the best result with a click of a button.
The Master Plan addon also has a "followers" tab to allow you to see the best armor upgrades for them, and what traits you may want to re-roll, change and or keep.
Why you need it:
This addon is very fresh and very useful, since owning your own Garrison is a huge part to WoW from the previous expansion. 
Deciding what missions to send your followers on and trying to get an optimal team for the best result from the mission, was a little time consuming. But this addon allows a quick analysis to be done with a simple click of a button to input the top followers with the highest percentage success rate. Time saving and very useful.
Master Plan allows you to easily collect the rewards from successful missions with a simple click of a button in the "Active missions" tab. This saves time and cuts out the usual animation process implemented to be displayed once a mission is completed.
Download this mod addon here: Master Plan
Bonus Addon - HandyNotes Legion Treasures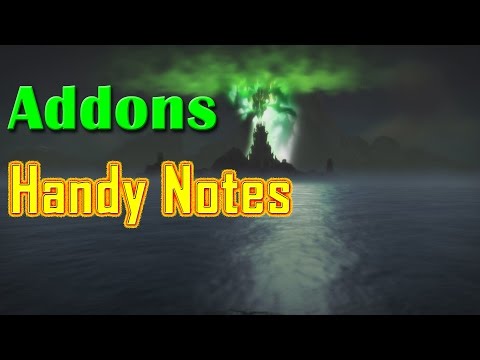 Quick run through and explanation to how this addon works in game!
What it does:
The HandyNotes addon allows you to easily and quickly find and locate treasure whilst playing the game.This bonus update for Legion applies the same concept.
Downloading this addon will save you a lot of time, as the mod is designed to visually display all the locations in your area on your minimap and when you open up the whole map.
Why you need it:
Treasure hunting is growing ever more popular; and with the upgrades, resources and other fun items you can find in the chests, it's easy to see why.
Save yourself some time, find get hunting, get involved and find the best gear, most resources and fun items Legion has to offer it's players in the new expansion!
Download this addon here: Legion Treasures
You may also be interested in reading the following articles:
2 WoW Legion - 10 new things in this expansion
3 World of Warcraft steady decline! 
5 15 things you'll understand if you've played WoW