Pokemon Go Announces First New Community Event
Updated: 13 Jul 2017 11:09 am
A sleepy Bulbasaur dozes next to the icon of Pokemon Go, a game that has spawned longtime fans, controversy, and a surge of excitement for the first major Augmented Reality game.
The "Worldwide Bloom" event will see a few changes in the Pokemon spawning system
Players of Pokemon Go are always on the hunt to find rare and powerful Pokemon to boost their own monster's stats or to add to their collection. While some creatures such as Pidgey and Rattata are found nearly everywhere, others are tricky to find. The latest event from Niantic boosts the likelihood of encountering these rarer Pokemon, granted they are of the Grass-type.
While past events applied special bonuses, such as the Water Festival introducing a new cosmetic item, few trainers have noticed a change in the Worldwide Bloom. Some claim that there is an increased rate of the appearance of special evolution items, which are arguably some of the hardest gameplay elements to obtain. They are usually only found at PokeStops, with a very slim chance of appearing in the player's inventory.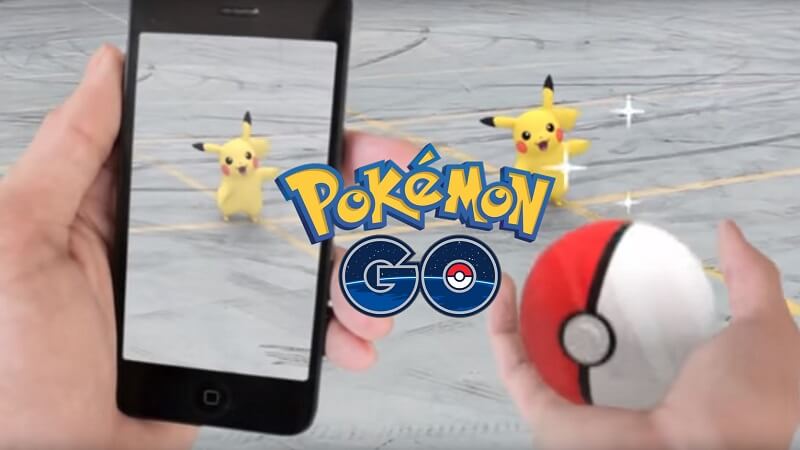 An early Pokemon Go promotional image showcases the excitement of seeing a virtual character in "real life"
The community event is a limited test of a brand new concept for Niantic
In partnership with the Knight Foundation, Pokemon Go has created the first of its special community events in Charlotte, North Carolina. Players will follow a route in their city to obtain items and stop at a few gyms to battle. Along the way, historic information will be presented and players will have the chance to interact with each other in person. The object of the community event is primarily to promote civic engagement in urban areas, much like players at the initial release of Pokemon Go which created Facebook events and Pokemon-themed restaurant specials.
While Niantic refers to the event as "very much an experiment", fans have expressed interest in future community events. The game's producers also hint that they will create more social events as the summer of 2017 comes into swing. Part of the success of the initial game release was attributed to the good weather and freedom that summer brings, so it's not surprising to see Pokemon Go take advantage of this aspect.
Upcoming changes will follow soon after the Worldwide Bloom
Recently, promo codes have been added to Android versions of Pokemon Go. Fans suspect these codes might provide discounts, items, or even potential access to the most powerful creatures in the game, Legendary Pokemon.
Some fans have expressed frustration with the Worldwide Bloom event. Many people have found little, if any, of an increase in the number of grass types that appear. Additionally, the event only lasted a few days, in comparison to a few weeks for previous spawn rate boosts. On the other hand, the Pokemon Go playerbase rejoiced when Niantic announced new methods to prevent cheating in the game. Players can no longer teleport long distances to catch Pokemon or pretending to catch them in their home.
Do you still play Pokemon Go? If not, are the community events and Legendary Pokemon enough to tempt you back? While you're trying to catch them all, make sure to take a look at these articles:
25 Foxiest Pokemon Cosplays Ever
11 Video Game History Facts You Didn't Know
Still searching for the NES Classic? You still might be able to find one in Amazon's physical stores